The problems of the world cannot possibly be solved by skeptics or cynics whose horizons are
limited by the obvious realities. We need men who can dream of things that never were.
John Keats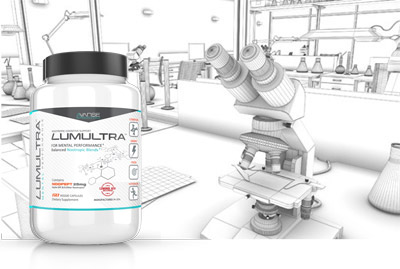 Keats' words resonated when we took the powerful nootropic agent Noopept, and set about the challenge of extracting even more from it. By combining this powerful Russian nootropic with Alpha GPC – one of the most effective cognitive enhancers – and Guarana, a native plant to the Amazon Basin known for its mental energy stimulating properties, we created the first truly effective nootropic blend. With relentless testing and measurement, followed by copious adjustment, the team at Avanse Laboratories were able to stack eight further nootropic ingredients to the foundation resulting in a formula that delivered on promises, and exceeded expectations from the go.
Step back in time now as we take a closer look at the reasons why the founders agreed upon their choice of ingredients…
What goes into a Lumultra capsule?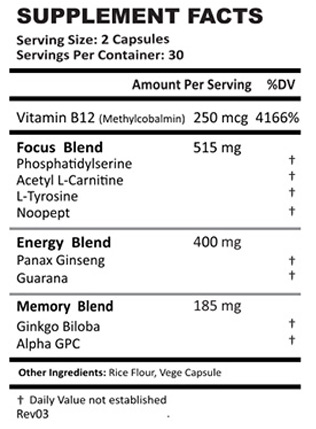 Manufactured by a GMP certified supplement manufacturer in a FDA registered laboratory in the United States of America, the ingredients put in Lumultra have been strictly tested and quality checked by highly qualified laboratories and chemists (GMP certified means that the manufacturer has demonstrated a strong regulatory commitment and compliance to international GMP standards). Every one of Lumultra's nootropic ingredients has an interaction with at least one other, and a reason for claiming its place. We put a lot of emphasis on eradicating both intense rushes and crashing burnouts. We knew instinctively that while we wanted to harness the mental alertness brought by Guarana, we needed to smooth its stimulating effects and keep balance within the body. For that reason we were able to leverage from Acetyl L-Carnitine's ability to support energy production in the mitochondria, and avoid the performance inhibiting burnout associated with stimulant use.
Years of experience and the collaboration of many great minds, including conclusive breakthrough research in the field of bio hacking that is still largely off limits to the public, has produced arguably the first cognitive enhancement supplement that delivers both immediate, and long-term benefits, while providing neuroprotective support and anti-aging protection. By including the golden dipeptide Noopept, which can pass the blood-brain barrier effectively, Lumultra works best during moments when successful learning and memory recall are crucial.1,2
A word of caution: Lumultra's effects are cumulative, building over time. With that said Lumultra does provide an intense boost to motivation within 20 minutes of ingestion. We recommend that if you are new to nootropics, that upon receiving your Lumultra order you run a sensitivity test by consuming a single capsule per day for the first few days.
Serving Size: Upon successful completion of a 1 capsule "tolerance test day", take 2 capsules per day. For best results take 1 capsule with breakfast and 1 capsule with lunch. Consuming too close to bedtime may result in a restless night. We advise you take a break from Lumultra for 2 days in every 7. You may also take a 30 day rest after every 90 days if you prefer. Please see more in our free Lumultra Guide attached to your receipt when you checkout.